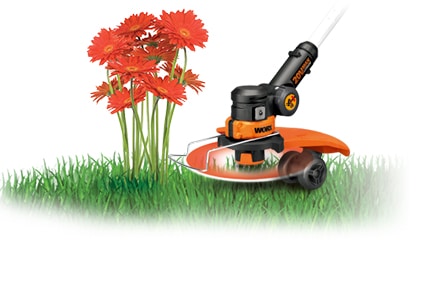 Worx is one of those companies that is slowly but surely making its way to the top of the gardening or lawn maintenance area. As the market for this area is so massive, any company that offers excellent service and performance in their products will always be a welcome addition. Worx is distinguishing itself from competitors through the quality of their garden tools and in the value people can get out of their well-earned money. All of their products are something homeowners should give a serious consideration.
The challenge of having a landscaped property is always in keeping it in pristine condition. Behind the beautiful façade lies the dedicated effort of the homeowners who want to enhance the beauty and value of their property through a well-manicured garden or lawn. Getting the right tools is always the first step in doing garden upkeep. Luckily, Worx is at hand to give millions of homeowners the chance to get garden tools with quality performance in a very competitive price range.
Top 4 Best Worx Weed Eaters
1
Worx WG175 32-Volt Lithium Max Cordless Grass Trimmer and Edger with Wheel Set
Hands down, this is the most versatile in Worx's deep arsenal of gardening tools. The product prides itself in its 3 in 1 function, which is certainly hard to top. This can be used at any time as a trimmer, edger, and even as a mower. More so, the high-quality performance of this product is matched only by its durability. The WG175 is easily one of Worx's best tools, regardless of category or price range.
Key features:
Any mower that weighs only 6.2 pounds is certainly impressive. One can move it around all over the place without any difficulty.
The 32-Volt Lithium battery delivers more than sufficient power for tackling tough weeds.
Versatility is exemplified by its 3 in 1 function of a trimmer, edger, and mower. This should give homeowners great value for their money.
Switching to and from any of its functions does not require power tools.
Pros:
Effortless use and handling.
Cons:
The battery takes a little more than 20 minutes before it empties.
2
Worx GT 2.0 WG160 Cordless Lithium Grass Trimmer/Edger and Mini Mower, 20 Vol
t
In basic terms, this is a toned down version of the previous model. It has basically the same features as the WG175, but with the slightly lesser power offered by a 20-Volt Lithium-Ion battery.
Key features:
3 in 1 function of a trimmer, edger, and mini mower.
20-Volt Lithium-Ion Battery for sufficient power.
12-inch cutting swath
Pros:
Very light.
High Revolutions per Minute gives it a faster working rate.
Adjustable height provides the user enhanced comfort and maneuverability.
Cons:
Absence of a battery indicator.
3
Worx WG168 40-Volt Lithium Cordless Grass Trimmer and Edger
An impressive weed eater that performs just the way Worx designed it to be.  It is a product that makes garden or lawn maintenance more of enjoyable and less of a task. Homeowners should give this more than a casual glance.
Key features:
40-Volt Lithium-Ion battery is a superb source of power for a reasonably long time.
Speed Controls give the user the right choice when cutting, trimming, or edging.
The adjustable handle allows better fit and maneuverability.
13-inch cutting swath.
Accurate edging is made possible with a guide.
Pros:
The battery charges in no time, which is really a nice feature.
There is an indispensable battery indicator.
Very efficient battery.
The WG168 motor runs with a normal hum. There is no annoying sound, even when used for hard tasks.
Cons:
Putting the product together requires effort and patience. The manual included in the package is not of much help either.
4
Worx WG155 20V Max Cordless Lithium 10-Inch String Trimmer/Edger
Power and ease in trimming are two important features any garden trimmer can have. These are more than sufficiently provided by the WG155. This product is very functional and durable. It is certainly worth a place in any homeowners' lineup of garden tools.
Key features:
Can be converted between trimmer and edger in seconds.
Wheels are available for ease of use and convenience.
The trimming head can be adjusted for a more efficient and easier task. It should be noted that there are more expensive options that do not offer this luxury. This is very handy and convenient to have for any garden maintenance work.
The battery provides excellent source of power. It has a 20-Volt 1.5AH battery, which should assure users of the kind of lasting performance it delivers.
Pros:
Very easy to use. A quick look at the product and one can already get a general idea of how it works.
No annoying sound coming from the motor once it runs.
The battery life is above standard.
Cons:
The one downside is the short handle, which may be a little inconvenient for taller people.
Conclusion
The market has no shortage of options concerning garden or lawn maintenance equipment. As choosing the right tool is often very stressful and daunting, getting to know these products will help the decision earlier. As always, Worx is one of the top options that any homeowner should think about.