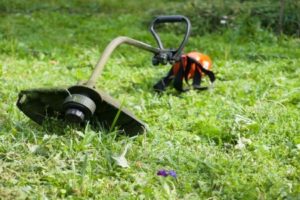 Weeds. These invasive growths in your backyard are things that should be addressed. You can't stop the ascent of nature, but you can trim the weeds and keep them away for a while. After all, they grow everywhere. You just have to focus on the places that need to be maintained. One of the most important tools that would help you address your problem of weeds is the weed eater. It's a must-have for those who wants to make yard work much easier.
What is a weed eater?
A weed eater is a contraption that would allow anyone to trim their lawn or their backyard with ease. They are highly portable and they can reach places that cannot be handled by lawn mowers or tractors. It's a basic tool that anyone would need, especially if the yard is considered one of the integral parts of the home. There are weed eaters that use blades to trim the grass, while the more modern ones use a line or a string. The ones that have string as the cutting mechanism is much safer and less damaging to the soil, bricks, garden pieces, and even itself.
Finding the right weed eater
In order for you to make your decision easier when it comes to the kind of weed eater you should purchase, you should know the kind of weed eaters that are available on the market and how they would specifically work.
The corded weed eater
This type of weed eater utilizes an electric cord in order for it to function. It does not use gas as it purely relies on electricity to get it going. If the cord is not plugged, it doesn't have a battery that would act as a substitute. Therefore, you would need an extension cord in order to reach farther places. It's a great option for smaller yards or lawns. It is also worth noting that the corded weed eater is quieter than its counterparts and that it doesn't emit any gaseous waste.
The battery operated weed eater
This type of weed eater is actually almost the same as the corded one. It has all the functions and the looks of that model, but with the notable addition of a battery storage and, of course, batteries. You would need to charge the batteries before using it. It's highly portable because you can just unplug it and take it anywhere. The batteries will keep it powered for at least 30 minutes of non-stop trimming.
The charging time for these cordless weed eaters is typically 3 hours, otherwise you won't be able to use it once its battery has been drained. It uses a Lithium-ion battery with 30-80 volts of power in it. It's actually very efficient as a power source and it doesn't degrade easily.
The gas powered weed eater
The gas type of weed eater is the most powerful of the bunch. It's also one of the earliest models of the contraption. While obviously not relying on a cord to feed it power, it runs on gas or oil or both, which are great mediums to produce power and efficiency.
The downside of having a gas powered weed eater is that it's a very noisy machine. It would chug, churn and sound off in a shrill shriek as you trim your lawn. The machine is also a heavy one, mostly because of the engine and the gas container that is connected to it. The smoke might also be a bothersome factor for landscapers or gardeners. There are brands that do not emit too much smoke, but you can't deny that it can be harmful to the environment and to your lungs, as well. Still, it's a very effective machine and a lot of people use this variety.
Conclusion
Choosing the right weed eater could be a harrowing task. You could look at a lot of factors and let them justify why you would need a particular type of weed eater over the other. They are all helpful and they are all very precise in their purpose, but you should also know their limitations. Being able to sift through the various advantages and disadvantages of several products can help you gain perspective and choose the right one for you.