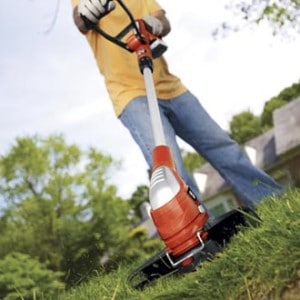 People who have gardens or backyard at home will need string trimmers or weed eaters to trim the grass. This powerful tool is designed to maintain the lawn from tall weeds or grasses. Weeds should be removed from the garden to keep the plants healthy. It is practical for garden keepers to get a tool that can be used on a lot of purposes, like one that can cut the hedges and the pesky shrubs as well.
In choosing a tool for the garden, one factor to consider as well is whether the tool is heavy-duty, especially if it will be used on a lawn or garden where the area is covered with other obstacles. Like shrubs and hedges, a simple string trimmer may not be suitable. The weed eater is a powerful tool ideally used to trim weeds, grasses, and shrubs, but they may cause dangers when used improperly.  They may not work well with other plants and hedges, which require other powerful tools.
Weed Eater is a brand for weed trimmer. In fact, it is the most popular one. Proper use of this tool is important not only to preserve the tool, but also to protect your own hands when using it.
Weed eater on hedges
Hedges or hedge grow are shrubs that are closely spaced together used to form a boundary or barrier. They are also used as a tree decoration in the garden because they can be trimmed to a specific shape and form. To trim them perfectly, a weed eater may not work well on hedges. Despite the fact that weed eaters are built to be powerful, yet they are not suitable for hedges.
There are hedge trimmers and hedge cutters available in the garden supplies stores, which is far better to use on hedges because they are designed for such purpose.
Weed eaters on pesky shrubs
Pesky shrubs are similar to hedges. They need regular trimming to maintain its form and shape, especially if they are intended as barrier or garden decoration. Since shrubs are much easier to trim and cut, a weed eater can be used for shrubs. Unlike with hedges, weed eaters are powerful on pesky shrubs because they do not need heavy duty trimmers.
How to use weed eaters?
Weed eaters can be used easily. A simple pull in its trigger will allow you to use it in different directions when needed. Hold the handle firmly and keep it a little closer to the ground to trim the weeds and cut them short. Make sure that there are no stones or pebbles along the way to prevent them from being thrown to different directions. They are functional and useful provided that you use them where they are intended to be used.
Weed eaters are powered either by electricity, battery, or gas. In corded or in cordless, most of these trimmers are built with new features to make your task easier. To be sure of the procedure, check the manual for instructions and see to it that they use the right battery or that they are plugged in the appropriate socket. For the gas-powered one, use the type of fuel recommended by the manufacturer to prevent problems.
Precautionary measures
As a powerful tool, the weed eaters work as efficiently as they are expected to. But you have to take precautionary measures as well to protect yourself and to prevent untoward incidences. When you trim the weeds or cut the pesky shrubs, it is best that you wear protective gears like eye glasses, gloves for your hands, and long sleeve shirts and long pants, or else your skin will get irritated from the debris.
Maintaining the backyard
Proper maintenance of your backyard or garden will make the task easy and more convenient. Even though you have the weed eater, do not wait for the weeds or grasses to grow tall before you trim them. A regular trimming once a month would be light enough to do instead of trimming them when they are already thick and tall.
Summary
After knowing more about the weed eater, how they are used, and whether it can be used to cut hedges and pesky shrubs, it is clear that this tool is suitable for weed trimming and to cut pesky shrubs. But for the hedges, it is best to use other tools instead, to prevent injury or to avoid the tool from being damaged.