Homemaking and landscaping have also afforded the capability to adapt to the changes and advancements in technology. These changes include the use of electricity as the energy source for components such as weed eaters. Before, the grass cutting mechanism was exclusively run by gas. Nowadays, a lot of people don't like to use gas too much because they want to help save the environment. Well, that's a good cause, and that is why there are companies that have developed wired trimmers and even cordless ones.

While most gas powered models of today emit less waste and function for longer periods of time, the corded variety can now do well also. It's still very apparent that corded and battery-powered weed eaters aren't ideal for tall grass or long-term de-weeding, but there are some products that can do well.
Now, if you have chosen a cordless weed eater for your home, then how would you choose one? Here are things to know before purchasing the cordless variety.
Get the feel of it
Go to your local hardware or appliance store and try out one of the cordless weed eaters for yourself so that you can discern your taste for it. You should consider the front handle if it's adjustable for your convenience. You should also notice the weight; it should be unwieldy or uneven because you would need a well-balanced machine for your trimming activities. You need the controls to be within reach, so mind that, as well.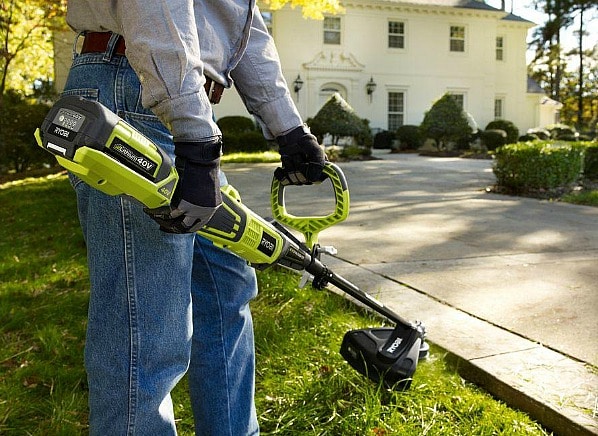 You should also note that the cordless variety of weed trimmers have a heavier weight than their corded counterparts. It's just logical because you'll be holding the machine itself and the battery supply that comes along with it.
Mind the power & battery life
Cordless weed eaters give you more freedom of movement and more portability. You won't have to worry about the snaking power cord that's trailing you from behind, always constantly at risk of being trampled upon or accidentally cut by the machine itself. Most cordless models have Lithium-ion batteries that run on 40-80 volts of power. Most cordless weed eaters also have a battery life of 30 minutes to 1 hour, depending on the usage and their charging time is usually 3 hours. Make sure to fully charge the machine before using it again.
Batteries compatible with other machines
You should know that there are other outdoor components and machines that run on batteries. If you prefer a specific brand, then you should know that the batteries of these components might be compatible with other items. You can use one battery while letting the others charge. It would save you a lot of time and get you more output to your work.
Protective gear
Being able to use weed eaters would entail that you stay safe at all times. If you feel that safety is overrated, then you are completely and utterly mistaken. You should never risk your safety, especially when machines and sharp objects are involved. In the case of weed eaters, these machines have the tendency to spew out debris everywhere. Cut grass and weeds can be seen shooting from the turning blade all over the environment. You won't want to damage your skin, your eyes or any part of your body.
The starting system
Cordless trimmers don't utilize pull-starting mechanics. They were meant to function with just a push of a button. If you have familiarized yourself with the basics of turning the machine on and off, then you should always be aware of the position of the on-and-off switch. You won't know when you would need to stop the cutting machine you are holding.
Conclusion
Ushering in the new can be a harrowing experience for anyone. A lot of changes can be expected, especially when it comes to the materials that people use every day. Still, change is good. The ways of maintaining the orderliness of a lawn or a backyard have also changed. Cordless components are now the rage of many a homeowner. This informative guide would help you gain new knowledge about cordless weed eaters while also telling you about the basics of the machine. Being informed is a great opportunity to discover and understand many products.